Why Do Golfers Have Back Problems?
Fitness expert Jamie Greaves outlines four things to consider if you're a golfer battling a back injury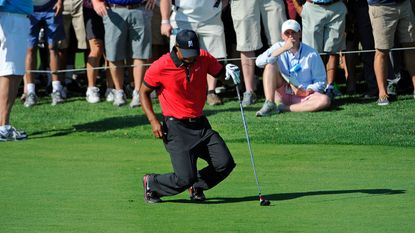 (Image credit: Getty Images)
A back injury is one of the most common complaints among golfers, whether professional or amateur. At the 2023 Sentry Tournament of Champions in Hawaii, Xander Schauffele was forced to pull out midway through his second round due to an ongoing issue.
The Plantation Course was also the scene of Will Zalatoris' first PGA Tour start since two herniated discs brought his 2022 season to a premature end. The 26-year-old had to skip last year's FedEx Cup finale and miss out on representing America in the Presidents Cup.
Most famously, Tiger Woods has been plagued by back issues, undergoing five operations in total, which included getting spinal fusion surgery in 2017 in a desperate bid to rid himself of debilitating nerve pain in his right leg.
The list goes on, but what is the root cause? Is there something that links golfers with back pain and that therefore can be avoided? Sadly, and like most things in this crazy game, the answer isn't that simple, but there are a few things to consider that will help minimise the risk. Fitness guru Jamie Greaves explains…
1. Rarely one cause
Don't be too quick to blame your technique. Injuries are often multi-factorial in nature. Stress, workload, poor sleep, mechanics et al can all play their part, as can luck. Zalotoris, for example, has changed his swing a little recently to try to alleviate some stress that it was causing. Now he is quoted as saying it's no wonder he got injured with his old move - I don't agree with that. Mechanics can play a part (and they probably did in this case) but it's rarely ever one thing and I'd say that's a bit naive.
It might have contributed but he swung that way for ages and didn't get injured, while someone with a classic low-stress swing (looks-wise) like Fred Couples suffered badly with back injuries. It's never usually that black and white.
2. Accept injuries happen
Sometimes you just can't prevent them. The best golfers in the world are professional athletes travelling the world with lots of stress. Their sleeping patterns might be all over the place at times and they are making hundreds, if not thousands of swings a year in excess of 120mph with enormous loads going through their bodies. Injuries happen in sports and in everyday life. It's not nice but they happen. You can stack the odds more in your favour but you can't always prevent them.
3. More speed = more risk
Maybe more pros are getting injured now due to the extra speed. These guys are 5, 10, even 15mph faster now than in years gone by. Combined with playing more events, more travel and everything else that comes with life on Tour, that's a lot of extra stress and workload for the body to cope with. But if you don't have that speed you can't compete nowadays so you have to have it!
As for everyone else, if you are trying to increase your speed, accept that you're upping the risk and do what you can to ensure your body is ready for the extra strain. Here is a thread on things you can do to reduce your chances of picking up a golf-related injury.
4 Tips To Reduce Your Risk Of Picking Up A Golfing Injury…⛳️🧵👇January 6, 2023
See more
4. Other things to consider
Take care when going back to golf after some time away. There was a big spike in niggles and injuries after lockdown when golfers went from little to no swings for three months to going nuts when courses reopened. If you've neglected your fitness, there are loads of simple golf stretches everyone can try that will help, while I'd always advise doing some lower back exercises to increase your strength in this area.
Additionally, if you slept poorly, were a little under the weather, or had a fight with your spouse and then went to the range in the evening to smash 100 drives, your injury risk is probably considerably higher than usual.
The pros are the same but obviously they are better equipped to deal with these stresses as it's their job. Most people have a lot going on in their lives so bear these things in mind when it comes to managing back problems and preventing future injuries.
Strength And Conditioning Coach
Jamie Greaves is a strength and conditioning coach and an avid golfer. He played college golf in America, where he reached a handicap of +2. Whilst playing in the States, Jamie discovered a love for fitness and how proper training can positively influence your golf game. Now TPI Fitness Level 3 Certified, Jamie has his own studio at Northampton Golf Club. He trains players of all ages and abilities both in person and through his JG Golf Fitness App. He also works with a number of Tour professionals, including Charley Hull, Lauren Taylor and Meghan MacLaren.